Lincoln Community Playhouse presents:
Season 75 - 773rd Production
Erma Bombeck: At Wit's End
September 25-27, October 2-4, 2020
by Allison Engel & Margaret Engel
presented by special arrangement with Concord Theatricals.
Originally developed for the stage with David Esbjornson.
---
PRODUCTION TEAM
Director - Judy Hart
Stage Manager - Barb Armstead
Lighting Designer - Kathleen Turner
Sound Board Op - Sara Bournia
Wig Design - Amy Koepke
---
BIO
DEANNA WALZ (Erma Bombeck) is an events specialist for Lincoln Journal Star. Past roles include Ethan Claymore (Theresa), Ragtime (Emma Goldman) and To Kill a Mockingbird (Jean Louise) at LCP and Noises Off (Dottie/Mrs. Clackett) at The Haymarket Theatre. "To be able to play one of my idols is a dream come true. I devoured Erma Bombeck novels when I was young, and she is such a strong role model for me in my writing. I have also kept her spirit in mind when raising my three children, and I hope the sense of humor that she has inspired in me can be transferred to my own kids."
---
ACKNOWLEDGEMENTS
George Streicher Music
JK Sax
The Durban Family
---
Coming in November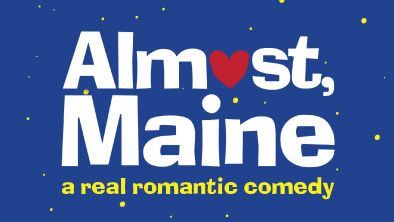 Lincoln Community Playhouse will bring the charming Almost, Maine by John Cariani to the stage November 5-8, 12-15. Tickets will be available October 26. More information will be announced on our website and social media.
Almost, Maine is a delightful midwinter night's dream. One cold, clear, winter night, as the northern lights hover in the star-filled sky above, the residents of Almost, Maine, find themselves falling in and out of love in unexpected and hilarious ways.
Morrie Enders will direct with Christine Cottam as stage manager, Nick Turner as scenic designer, and Kathleen Turner as lighting designer.
---
FRIENDS OF THE PLAYHOUSE
---
Thank you to all of our generous donors for make the Playhouse a cornerstone of our community. The following list represents gifts supporting Season 75 through September 25, 2020.  To add your name to our list of supporters, please consider making a gift to the Playhouse. Contributors of $50 or more become part of Friends of the Playhouse. 
Director $500-999
Bruce & Cathy Hahn
Kieran Keenan
Beth Krause
Art & Christine Zygielbaum
Designer $250-499
Tiffany & Brandon Verzal
Stephen DiMagno
Morrie Enders & Kay Siebler
Jones Charitable Trust
Anne Eklund
Company $100-249
Anonymous
John Ballew
Michael & Vicki Bousquet
John & Cecilia Burkhart
Don & Marsha Dunn
Lee Foster
Robert Haller
Donna Hastings
Jim, Joe & Nancy Hlava
Dawn Luebbe
Bill Maltas & The Waffleman
Gina Matkin & Randy Reinhardt
Wendy Mayhew
James B. Miller
Laura Neeman
Burr & Catherine Phillips
Rosemary Reed
Rhonda Seacrest
Suzanne Spaniol
Susan Sehnert Stuart
Playwright $50-99
Charles & Barbara Francis
Betty Gayley & Steven Sloggett
Mary & Donald Geiger
Barbara DiBernard & Judith Gibson
Linda & Gary Hall
Rosalie Hall
James Hewitt
Julie & Rod McCullough
Marilyn Metzger
Sheree & Michael Moser
Carla Petrey & Michael Donlan
Joan Powers
Marcia White
Southeast Community College
Mightycause
---
Tribute Program
The Tribute Program provides an opportunity to celebrate milestones and honor the memory of friends and relatives.
In Memory of James Carr
Anonymous + Thermo Fisher match
Southeast Community College
Judith Gibson & Barbara DiBernard
Steven DiMagno
Mary & Donald Geiger
Robert Haller
Donna Hastings
James Hewitt
Julie & Rod McCullough
Michael & Lara Miller
Schnepf & Jones 
Susan Sehnert Stuart
George & Mary Lou Wirith Jr.
In Memory of Kevin Duling
Anonymous
Linda Ager
Kristen Alderson
Sue Anschutz
Liz Arnold
Judy Balka
John Ballew Jr.
John Blumer
Susannah Bohlke
Janice & George Boosalis
Chantel Borchers
Polly Bowhay
Pat Brennan
Maureen Carrita
Krystal Chiucchini
Paul & Kathryn Christensen
Charles & Connie Clifford
Salvatore Collura
Margaret Connealy
Alyssa Cullinan
Denise Cuva
Kathy Cuva
Jack & Ruth Davis
Joanne Dickinson
Carrie Diffenderfer
Pat & Betsy Egan
Morrie Enders
Melissa & Mark Epp
Kate Erskine
Ferguson
David & Jane Firestone
Boston Flannery
Mark Freeman
Candy Galas
Melvin Gitler
Diane Gloystein
Lonnie Goertz
Dr. Louis & Mary Gogela Jr.
Diane Gonzolas
Kathy Gouldsmith
Allison Gullidge
Rachelle Hadley
Bruce & Cathy Hahn
Gary Hall
Carolyn Harp
Sam Hartley
Jim & Nancy Hlava
Kate Honeyman Engel
Danny Johnson
Jill Johnson
Lynn (Duling) and Brent Kalemkiarian
Justin Kalemkiarian
Meg Kissel
JoAnne Kissel
Elizabeth Krause
Megan Lanzarone
Sue Lawlor
Darren Ley
Kristi Lounsbury
Dawn Luebbe
Janet Malone
Tedi Marsh
Brendan McCann
Julie & Rod McCullough
Douglas McDaniel
Brian McKee
Jordana Mendelson
Debra Miller
Kirk Monismith
Mosby Lincoln Foundation (on behalf of Marg & Ed Lincoln, Margaret & Ken Donlan)
Sheree & Michael Moser
Susie Mosher
Lenette Nelson-Schwinn
Kenny Noth
Darrell Noth
Eric Ojeda
Roseann Perry
Kendelle Perry
Corinne Pina
Raftery
James & Pamela Rathe
Alex Roth
Clayton Schroeder
Sally Schwab
Susan Shamblin
Laurie Smith
Patricia Spilker
Victoria & Dale Springer
Sandi Strain
Julie & Michael Sullivan
Katie Taddeucci
Ed & Sue Tricker
Union Bank & Trust
Toni Unthank
Nicole Van Giesen
Bob & Marilyn Wagner
Megan Waples
Thomas Wekesser
Michael West
Susan White
Scott White
Ryan White
Laura Whitney-Thomas
Brenda Zitek
In Memory of Ginnie Dzerk
Alan Dzerk's Celerion coworkers
Rosalie Hall
Rosemary Reed
Emily Zimmer
In Memory of Ginny Parker
Dorothy Applebee & Susan Krause
Michael & Vicki Bousquet
Lucy Buntain
Don & Lynette Byrnes
Don & Marsha Dunn
Amy Duxbury
Robert & Sue Hedrick
Marilyn Metzger
Robert & Kathryn Owen
Carla Petrey & Michael Donlan
Burr & Catherine Phillips
Rhonda Seacrest
Delbert & Linda Smith
Shalla Young
---
Corporate Recognition Gifts
Many companies match donations made by their employees to a nonprofit. Some make a financial contribution if their employees volunteer their time in the community. Thank you to the following companies for making contributions to the Playhouse in their employees' names.
Allstate
Ameritas
State Farm Insurance
The Gap
Thermo Fisher
We thank the following foundations, grant makers and endowments for supporting Lincoln Community Playhouse. 
Amazon Smile, American Association of Community Theatre, Bryan Medical Center, Henry J. and Pauline M. Armstrong Endowed Fund, Community Services Fund of Nebraska, Cooper Foundation, Margaret O. Joy Designated Fund, Oliver T. and Margaret O. Joy Endowment, Lincoln Arts Council, Lincoln Community Foundation, Lincoln Community Playhouse Endowed Fund, Lincoln Community Playhouse Guild Charitable Fund, Lincoln Foundation Community Arts Endowment Fund, Lincoln Rotary Club 14 Foundation, Mid-America Arts Alliance, Nebraska Arts Council/Nebraska Cultural Endowment, Russ's Market Community Rewards program, N.Z. Snell and Flora Frost Snell Fund, U.S. Bank Foundation, & Woods Bros. Realty Foundation for Giving.
---
Take A Seat Campaign
Thank you to all our supporters of the Take A Seat Campaign.
Salon Amaryllis
Ashley Amber
Kristi Ambroz
Dan Anderson
Anonymous
Patricia Beck Langfeldt
Rachel Blake
Greg & Rose Bouvier
James Bowen
Jan Brockley
Dr. Robert Buchman
Becky Wurm Clark
DuTeau Chevrolet
James & Linda Dockery
Morrie Enders
Bob & Karen Everitt
FIVE NINES
Dennis & Cherie Frederick
Steve & Marie Glenn
Michael Goeres
Grafton & Associates, PC
Lincoln Community Playhouse Guild
Bruce & Cathy Hahn
John & Susan Hanlon
Randy Hawthorne
Phil & Barbara Heckman
Joan Hudson
Jim Ihrie
Nelle & J.P. Jamison
Cuz & Kile Johnson
Virginia G. Johnson
Merikay Keith
Jessica Kennedy & Scott Matthews
Jeanne & Rich Kern
Amy Koepke
Lyn & Natalie Leach
Mike & Jody Lindberg
Dylan McCullough
Rod & Julie McCullough
Mickey Metzger
Midlands Packaging Corporation
Margaret & James Minary
Tim Montague Memorial
Nelnet
Jim & Gail O'Hanlon
Charles Ogden
Penguin Project Supporters
Carla Petrey & Michael Donlan
Jane Raybould
Pat Raybould
Mary Reiser
Bertha Rickertsen
Bruce & Julie Rickertsen
Angela Robinson
Jim & Kathy Rowoldt
Annaliese Saathoff
Suzanne Schreiber
David & Sue Shamblin
Kent Steen
Opal Stivrins
Susan Stuart
James Stuart, III Family Foundation
Suzanne & Scott Sughroue
Kristy Tremayne
Brandon & Tiffany Verzal
Thomas & Karen White
Andy & Christine Wilcox
Judy & Ross Wilcox
Karen Freimund Wills & Family
Donation to Seating Campaign
Garner Industries