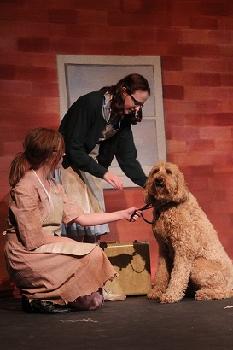 Penguin Project Wins Mayor's Arts Award
We are pleased to announce our 2014 Penguin Project production of Annie Jr. has been selected for The Outstanding Event Award for the 2015 Mayor's Arts Awards. The award recognizes a performance, exhibition or project in the previous year that will be notable in the community memory for years to come because of its content or cultural significance.
Lincoln Community Playhouse was the first organization outside of Illinois to produce a Penguin Project show. The Penguin Project was conceived by Dr. Andrew Morgan in 2004 to give children with special needs an opportunity to participate in the performing arts. "Dr. Andy" is a developmental pediatrician and the former Head of the Division of Child Development at the University of Illinois in Peoria. He has also directed and performed in many community theater productions in the area. He created The Penguin Project recognizing that theater not only provides children with a valuable recreational experience and an opportunity to display their creative talents, but also enhances social interaction, communication skills, assertiveness, and self-esteem.
There have been Penguin Project productions in Gettysburg, Pennsylvania and Murray, Kentucky as a direct result of our Lincoln production. Playhouse Executive Director, Morrie Enders, and Gettysburg Community Theatre Founding Artistic Director, Chad-Alan Carr, will be presenting a workshop on the Penguin Project and other outreach programs at the national American Association of Community Theatre Festival in June.
Our Playhouse Penguins are currently in rehearsal for Disney's The Little Mermaid Jr. which will have performances June 5-7 at the Playhouse.