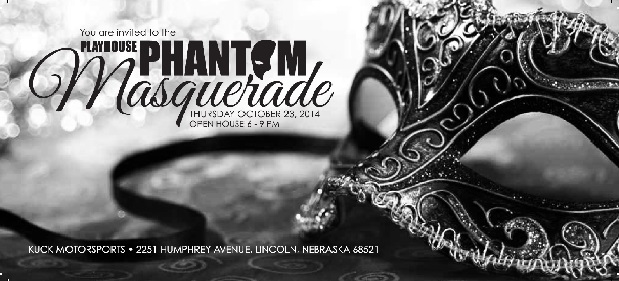 Playhouse Phantom Masquerade
Thursday, October 23, 2014
Open House 6-9 p.m.
Kuck Motorsports, 2251 Humphrey Ave., Lincoln
Join us for THE event of the season!
The Playhouse Phantom Masquerade, the season's premiere event, will be held 6:00-9:00 p.m. Thursday, October 23, at Kuck Motorsports, 2251 Humphrey Ave. Complimentary hors d'oeuvres, wine, beer and soda will be served.
Plan on being awestruck by the Kucks' collection of more than 100 cars. You'll enjoy a history of the automobile from a 1906 Cadillac to classic muscle cars. A special section is devoted to vehicles from Hollywood, including a 1960's Batmobile and a General Lee from The Dukes of Hazard. The Kucks have presented their private collection in atmospheric displays such as a drive-in and a soda shop. Kuck Motorsports is one of the treasures of Lincoln!
Masquerade attire is encouraged but not required, and masks will be available. Tickets are $50 in advance or $60 at the door. Tickets are available online at www.lincolnplayhouse.com and by calling the box office at 402-489-7529. Friends of the Playhouse members at the Designer level and higher receive a $10 discount on each ticket by calling Christine at 402-489-7529. Adults only please.
The complimentary hors d'oeuvres are being provided by Premier Catering and include seared salmon with Asian noodles, tomato basil bruschetta chicken strips, vegetable crudites with roasted garlic hummus, market fresh seasonal fruit, cheese and breads, spinach and artichoke dip with lahvosh and gourmet sweet petit fours.
Come support the Playhouse and have an unforgettable evening.