The Fantasticks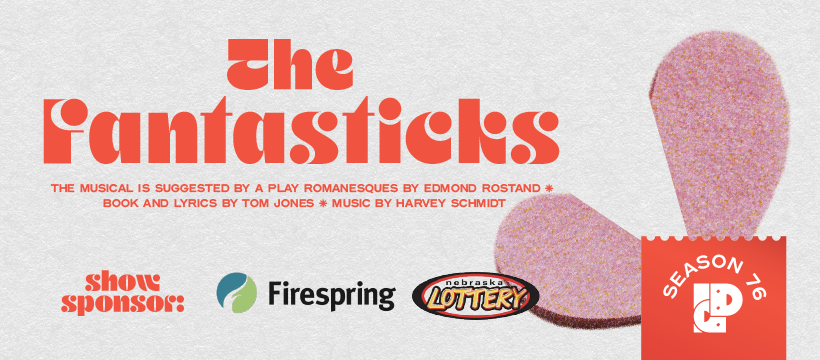 PERFORMANCES
September 10-12, 17-19, 2021
September 9 - Frontline Heroes Free Perf 
Book and lyrics by Tom Jones
Music by Harvey Schmidt
The musical is suggested by a play Les Romanesques by Edmond Rostand.
Lincoln Community Playhouse returns to a full season with The Fantasticks, the world's longest-running musical (44 years in NYC!). This funny and romantic musical is about a boy, a girl, and their two fathers who try to keep them apart. It is a world of moonlight and magic, rich with breathtaking poetry, theatrical flourish, and a beautiful score which includes "Try to Remember."
A timeless fable of love.
Sponsored by Nebraska Lottery and Firespring.
CAST LIST
The Narrator (El Gallo) - Sean Flattery
The Girl (Luisa) - Jocelyn Tisdale
The Boy (Matt) - Zephaniah Siebler
The Boy's Father (Hucklebee) - Graeme Cooper
The Girl's Father (Bellomy) - Ken Killman
The Old Actor (Henry) - Danny Johnson
The Man Who Dies (Mortimer) - Tory Petz
The Mutes - Kaia Anderson, Salvador Diaz-DeBose
PRODUCTION TEAM
Director - Morrie Enders
Music Director - Jack Forbes Wilson
Choreographer - Ted Blessing
Scenic Designer - Kathleen Turner & Nick Turner
Lighting Designer - Kathleen Turner
Stage Manager - Barb Armstead
Costume Designer - Hannah Hansen
Sound Board Op - Trip Snyder