Penguin Project: Elf Jr.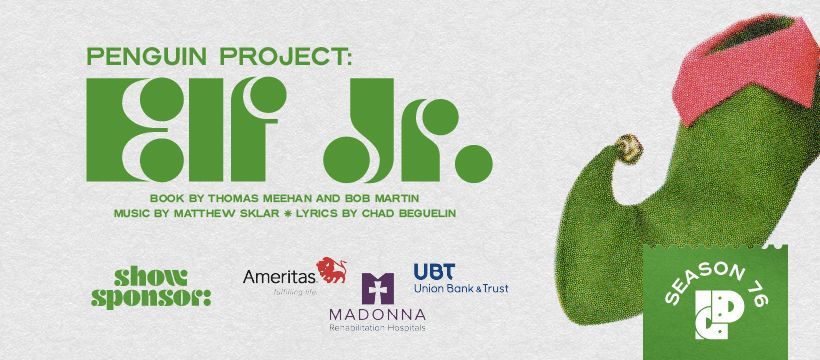 PERFORMANCES
December 10-12, 17-19, 2021
December 9 - Exceptional Families Perf
Book by Thomas Meehan and Bob Martin
Music by Matthew Sklar
Lyrics by Chad Beguelin
Buddy, a young orphan, mistakenly crawls into Santa's bag of gifts and is transported to the North Pole. The would-be elf is raised, unaware that he is actually a human, until his enormous size and poor toy-making abilities cause him to face the truth. Buddy embarks on a journey to NYC to find his birth father and discover his true identity.
Sponsored by Ameritas and Union Bank & Trust.
CAST LIST
*The list is read as Role - Artist, Mentor
Santa Clause, Ens.01 - Easton West, Ethan Gabel*
Buddy - Caleb Nelson, Sydney Wendt
Sam, Ens.02 - Dax Iford, Ella Fundus
Walter Hobbs, Ens.02 - Luke Schlicker, Caroline Haws
Deb, Ens.01 - Maddie Anderson, Anna Doné
Emily Hobbs, Ens.01 - Athena Haws, Melanie Wiggins
Michael Hobbs, Ens.01 - Tayten Soerjawitaka, Adam Gabel*
Jovie, Ens.01 - Celia Faith, Ellie Brox*
Sarah, Finale Soloist #1, Ens.02 - Marisa Casillas, Abbie Green
Ms. Greenway, Ens.02 - Alexis Verzal, Marah Maxon
Chadwick, Ens.02 - Logan Kirk, Andrew Donlan
Matthew, Ens.02 - Christian McClure, Morgan Gabel*
Charlotte Dennon, Finale Soloist #2, Ens.02 - Addi Stege, Vittoria Quaranta
Darlene Lambert, Finale Soloist #3, Ens.01 - Violet Fritts, Pearl Stempson*
Emma Van Brocklin, Finale Soloist #4, Ens.01 - Aubrey Erickson, Ruthie Stokes*
Charlie, Ens.01 - Charlie Miller, Eme Troy*
Shawanda, Ens.01 - Kaitlyn Vander Woude, Mara Scott
Business Woman, Ens.02 - Taylor Elgert, Mollie Clarke
Comforting New Yorker, Ens.02 - Hope Reinwald, Khloe Bauer*
Teenager, Ens.02 - Dathin Cooper, Darby Pankoke
Security Guard #1, Ens.01 - Koda Dubbs, Porter Maxson*
Security Guard #2, Ens.01 - Alex Schweitzer, Ava Swank
Saleswoman, Ens.01 - Alyra Baxter, Molly Kunkel*
Manager, Ens.01 - Kaden Bowen, Julia Haller
Santa's Helper, Ens.01 - Olivia Grieser, Lily Ardinger Stibal
Fake Santa, Ens.02 - Jacob Depenbusch, Savannah Miller
Policeman #1, Ens.02 - Xander Fritts, Lilly Doné
Policeman #2, Ens.02 - Zach Corder, Lilly Doné
SWING MENTORS -Kimbal McClure, Emma Kirby, Kadie Eklund
*LCP Debut
PRODUCTION TEAM
Director - Acting Focus - Morrie Enders, Ashley Kobza
Director - Music Focus - Shauna Shaefer
Director - Choreography Focus - Kaia Anderson
Director - Artist/Mentor Focus - Lily Sughroue, Claire Shada, Emily Adams, Alesha Beatty
Scenic/Lighting Designer - Kathleen Turner
Costume Designer - Jamie Bullins
Production Stage Manager - Christine Cottam
Sound Designer - BJ Montague
Props - Sarah Daughtery