Joseph and the Amazing Technicolor Dreamcoat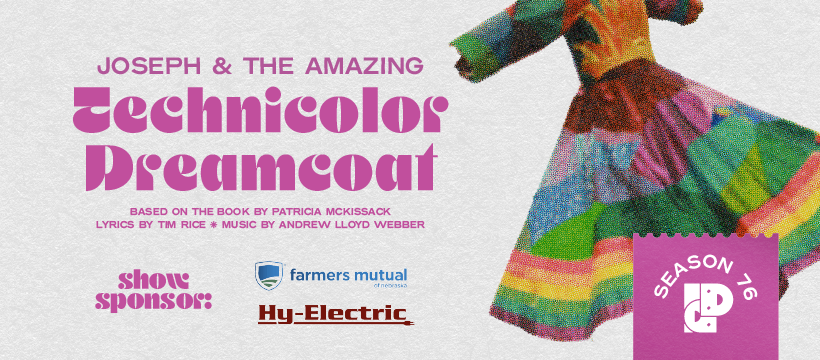 PERFORMANCES
May 6-8, 13-15, 20-22, 2022
May 12 - Free Will Offering Perf
Lyrics by Tim Rice 
Music by Andrew Lloyd Webber
One of the most beloved – and colorful – musicals of all time, Joseph and the Amazing Technicolor Dreamcoat is a reimagining of the Biblical story of Joseph, his father Jacob, eleven brothers and the coat of many colors.
The magical musical is full of catchy songs in a variety of styles, including country-western, calypso, Elvis rock, and French ballads.
Sponsored by Farmers Mutual and Hy-Electric.
CAST LIST
Narrator - Annaliese Saathoff
Jacob - Elbert Traylor
Joseph - Jacob Vanderford
Reuben (lead singer for One More Angel in Heaven) - Brad Hoffman*
Simeon (lead singer for Those Canaan Days) - Braden Foreman-Black
Judah (lead singer for Benjamin Calypso) - Grant Schirmer*
Benjamin - Jasmine Lundquist*
Brothers (names announced later) - Kent Steen, Matthew Bejjani, Nathan Colling, Roland Meisler*, Taylor Brown*, Thomas Hinshaw, Tory Petz
Potiphar - Paul Eschliman
Potiphar's Wife - Stacie Sinclair*
Pharaoh - Brian Foley
Baker - Marie Barrett
Butler - Graeme Cooper
Soloist (descant in One More Angel in Heaven) - Ashley Bolton
Featured Dancers (in Those Canaan Days) - Zoe Tien, Tory Petz
Adult Ensemble:
Asher Fritts, Ashley Bolton, Caitlin Morrow, Caroline Haws, Dylan Warren*, Graeme Cooper, Hali Liles*, Lizzie Reckmeyer*, Marie Barrett, Marie Schlater, Paul Eschliman, Rebekah Brown*, Stacie Sinclair*, Zoe Tien
Youth Choir
Annaleigh Stahlnecker, Kaelyn Livers*, Lumi Kim, Lydia Robinson*, Owynn Carlson*, Scarlett Trover*, Washburn Hoffman*
*LCP Debut